Description:
Burnside Family:

Top row, left to right: daughters Josie, Eliza, son, John, daughter, Florence.

Bottom row, left to right parents, Ellen and Joseph Burnside, son, Roy. Not pictured: sons Ear, Andy.

Note on photo: "According to Aunt Georgia, the folding rocker was brought to Oregon from Kansas City, KS, in two covered wagons in 1903. Her father, Joseph, drove one with her mother Ellen, and the girls, Florence, Josie, and Eliza. The boys, John, Ear, and Andy, took the other one. When they got to Fort Steele, WY, baby brother Roy was born in her mother's covered wagon on September 26, 1903. Florence Married William Hardy in 1911 at Baker. He preceded her in death in 1934. She married Jesse Morgan in 1960 at Baker. He died on March 15, 1968, and Florence passed away at the age of 77, on July 10, of the same year."
Click to Enlarge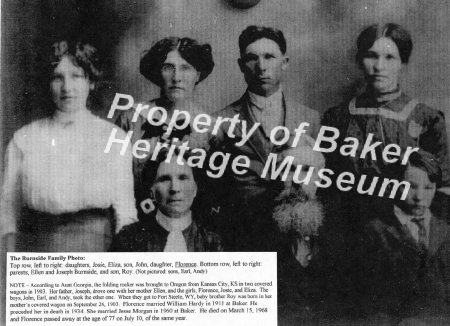 Burnside Family