Description:
Boy Scouts of America Drum and Bugle Corp; Jim Littig leader; Bob Stewart; Vic (Ves) Wood. 2 majorettes. 28 male members.

Ron Petterson, Jim Elscamp, Chuck Goodman, Judy Head, Herman Butler, Bob Humphries, Jack Stiger, Diana Holloway, Tom Chandler, Ron Guyer, Jim Littig Jr., Norman Mead.

Back row from left: Bob Stewart, George Richardson, Jr., John Minor, Ray McCoy, Mike Williams, Ron Fullerton, Lee Payne, Leron Howland, Carl Stoner, Jim Weber, Bill Carver, Kim Haskel, Larry Moore, Terry Smith, Vaughn Folkman, Verl Swiger, Torry Marsh, Rand Guyer, Tommy Moore, drum major; Dick Hindman, Jim Littig, Sr.

1959 Chicago.
Click to Enlarge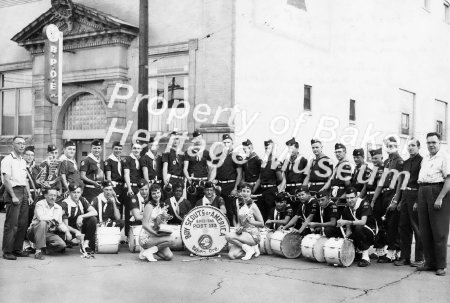 Elks Drum & Bugle Corp