Description:
Black and white picture of a Russel six horse traction steam engine. The following text came with the picture——
"This Russel six horse traction steam engine from the Enterprise and Joseph area was brought to Haines by John Hener.
This Russel was first moved by horses and later someone installed a traction kit. The steering shaft couldn't pass down along the lower right side, hence the steering on the left hand side.
The steam dome is a pipe reduced down to match the pipe side on both ends.
The pop off valve has been moved back to the left of the pressure gauge. It originally was located between the stack and the steam dome. See the plug at top of the boiler just behind the cylinder.
The clutch has been replaced. It was wearing on the fly wheel; you can see the worn spot on the spoke of the fly wheel showing through the cluth.
The knob out at the top of the fir box just to the right of the steering wheel is to open the draft.
The steam make up is missing on the left side. You can see the plate cover opening just under the cylinder.
The boiler must be inspected and retubed before it's operational.
I first saw this little steam tractor at North Powder, Oregon in the 70's at a threshing bee. It was belted to a small wooden sided hand fed separator. It was a little slow. I'm sure much faster than a flail and windling grain, and thresh she did.
This small tractor and the threshers are a part of J.D. and Linda Lethlean's steam collection at Baker City, OR., housed inside. As told to Charlie Stoaks, photograph clean—up and enhancement by Jon Croghan Photography, Baker City, OR.
Click to Enlarge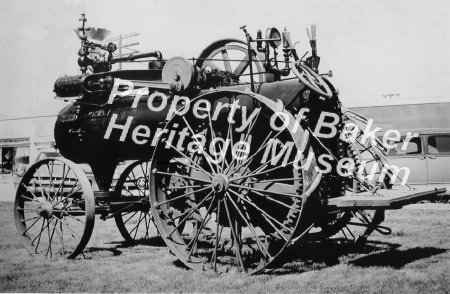 Russel traction steam engine